The Richmond Deluxe range cooker incorporates the best of both worlds as it offers the traditional homely charm of a quaint farmhouse range cooker, with innovative modern features that are geared towards managing your cooking conveniently. This appliance is compatible with the Stoves' Zeus smartphone app which allows you to control the cooker when you are not in the kitchen. Zeus allows you to initiate different cooking programs, modes and times from the palm of your hand!

If you are a passionate hands-on cook then you will be very well suited to the S900EI - this 90cm food fortress can handle just about every cooking function imaginable yet, it can also take care of huge quantities of food. Nothing beats the look of the classic cream range cooker but the S900E1 comes in a variety of different finishes including various tasteful shades black, green, blue and red.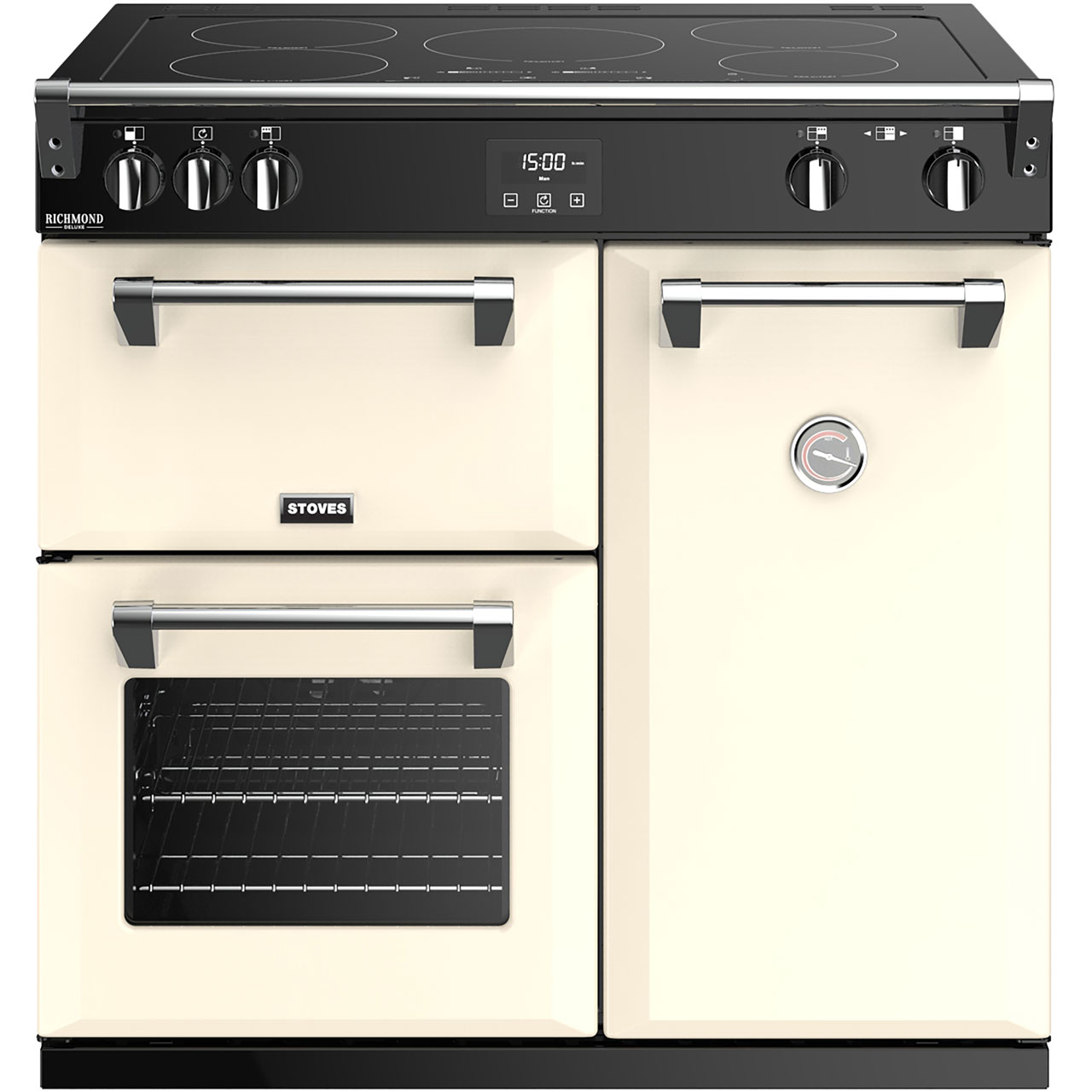 Smart Design Gives Capacity And Efficiency
This range cooker boasts three oven cavities with a combined capacity of 164 litres which lends itself to a host of possibilities. A major selling point of the Richmond Deluxe is the quad oven Proflex which allows for the third oven to be split into two thus effectively creating 4 ovens which is great for that extra bit of flexibility when you need it.

The slick induction plate hob comes with 5 standard sized burners giving you an enormous scope for simultaneous frying and boiling. Induction cooking has been steadily growing in popularity in recent years for good reason. By feeding electrical power into the pan and creating a state of conductive resistance, the pan itself becomes heated as opposed to conventional cookers that rely on heat energy transfer. The induction process is a lot more energy efficient and this can really have a positive impact on your bills. This brings us to another welcome revelation in that the S900E1 scores "A" for energy efficiency which is almost hard to imagine considering the cooking capabilities of the appliance.

One of the most common issues experienced by those weighing up whether or not to invest in a range cooker is cleaning. When considering the size of the appliance and the many different cavities, many people decide that cleaning a range cooker would be too much of a task. Luckily with the S900EI, this will never be an issue as Stoves have employed self-cleaning technology which when initiated, heats up the cooker's interior walls to 450°C and turns all dried on grease and grime to ash. It's then a case of just wiping the insides with a damp cloth! The framed glass induction covering hob.
Modern Functions, Classic Design
The S900E1 offers some serious space capacity but don't let this fool you into thinking that there is no finesse to the cooker's ability to produce great tasting food. Stoves' legendary "Steam & Infuse" oven technology allows you to steam cook food, a method that is famed for providing evenly distributed cooking power through the oven. The steam oven function included with the S900E1 allows you to cook food and still retain its great tasting flavour and moisture.

Stoves have created something inherently special with the S900E1 by fusing the capacity and solid build of the traditional range cooker with state of the art intelligent cooking technology and energy efficient functionality. With a five years parts warranty, Stoves continue to maintain their commitment to customer satisfaction, something that has underpinned the company since 1920.
Getting the best range cooker for your kitchen is often challenging, even once you have chosen this Stoves model you still require great customer service and delivery options in Enniskillen, Northern Ireland. At Mullen Domestic you can get the Richmond Deluxe S900EI Range Cooker with great service and a guaranteed excellent price, click here for more information.